From the pages of
Sublette Examiner
Volume 2, Number 13 - June 27, 2002
brought to you online by Pinedale Online
---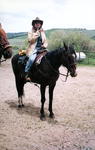 Jackie Olensky directs the filming from behind-the-scenes at the Box R.

What's happening Today at the Box R?
Weatherman Al Roker chooses the Box R Ranch for a feature spot
by Rhonda Swain

The movie City Slickers prompted many urbanites to "Go West Young Man," and the events of 911 prompted Al Roker, weatherman on the Today show, to do the same. After the terrorists' attacks, Today show personalities Roker, Katie Couric, Matt Lauer and Ann Curry decided it would be good for them to see what is going on in America.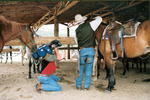 Cameraman Paul films Dean McSporran as he bridles one of the mounts the film crew rode Saturday. The cameramen got up close and personal when shooting this type of action.

So they came up with a plan to attend adult incentive camps across the country, much like Jane Doe and her family from the city would do.

Couric was to attend an outward-bound type of camp, while Lauer was signed on for a sailing camp and Curry was to head to an aerobics/fitness camp. Roker decided he wanted to be a cowboy for a couple of days, and when the Box R came up on the Internet as one of the few guest ranches that offer working cowboy packages, plans were put into place for him to head to Pinedale.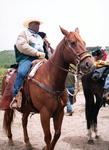 Box R staff members mounted Al Roker on a big sorrel gelding they call Kid.

Ironically, though, the other three camps were cancelled due to lack of participation at the camps, according to Jackie Olensky, one of the Today show's producers. She said that at one point there was talk of canceling Roker's Box R visit as well, but he wanted to go ahead with their plans, and last week, he and his entourage arrived at the Box R.

The cast and crew had different flights into Jackson, with Olensky arriving on Thursday to scout out the Box R and the rest of them getting here on Friday. Roker and Olensky both did some shopping locally, mainly at the Cowboy Shop, so they would be "authentic," Olensky said as she showed off her rough-out cowboy boots. Roker spent quite a bit of time in Pinedale getting outfitted before heading to the Box R Friday night, with the camera crew filming him as he made his cowboy clothing choices.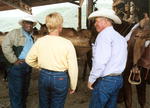 Box R owners Irv and Robin Lozier visit with the Today show weatherman Al Roker while they wait for the crew to get all the horses and equipment ready.

Irv Lozier, owner of the Box R, and his crew held the same type of orientation day for Roker's crew as they do for any other guest. They familiarize guests with horses and gear prior to mounting up to do any actual riding, only the Today show required some special orientation techniques.

As Lozier worked with the camera crew in getting their horses used to the bulky equipment, conversation about the cameras to be used in the shoot came up. Lozier commented that the camera probably cost much more than his horse, and one of the cameramen asked what the horse was worth. Lozier jokingly told him about $35,000, to which the cameraman replied "Try two horses."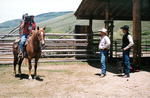 Box R's Dean McSporran and John Zoller give cameraman Paul some tips on holding the camera.

Sunday came early for Roker, as he rose at about 3 a.m. to help push cattle with members of the Upper Green River Cattle Association on their way to summer range in the Upper Green, an activity that Box R guests participate in each summer. The crew rode with Albert Sommers' and Stan Murdock's crews, Lozier said. After a night of rain, the fogged-in valley was what Olensky called "mystic," as they waited for the fog to lift. They finally filmed with the fog, because they had to fly out of Jackson at noon.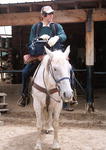 Sound person David waits for the word to head out on the trail.

Lozier said that Roker had a hectic time, spending about 42 hours at the ranch, which resulted in 15 hours and 40 minutes of taped time, including taping at the Cowboy Shop.

Both Roker and Olensky said they are impressed with the area and would like to return for a "real" vacation. Roker is interested in a family plan, as he said he would like to bring his three-and-a-half-year-old and his 15-year-old.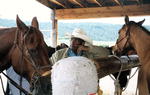 Al Roker spends a quiet moment with Kid prior to their next shot. Irv Lozier said that when Roker wasn't filming, he was very congenial with the rest of the Box R guests.

As to what the filming could do for business at the Box R, Lozier said, "I have a funny feeling it'll probably finish filling our summer and have an effect on our 2003 summer."

Olensky said the Box R spot is tentatively scheduled to air the week of July 24th. (Watch future issues for an update on when the Box R will be on the Today show.)

Photo credits: Rhonda Swain

See The Archives for past articles.
---
Copyright © 2002 Sublette Examiner
All rights reserved. Reproduction by any means must have permission of the Publisher.
Sublette Examiner, PO Box 1539, Pinedale, WY 82941 Phone 307-367-3203
examiner@wyoming.com