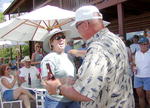 Cynde Wilson hands the winning check to Charlie Golden, congratulating him as he thanks her with a hug. For the win, Charlie brought in a 14-pound, 8-ounce fish that measured 34 inches long.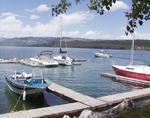 The Pinedale Boat Club couldn't have had a better day for the Father's Day Fishing Derby. The sun was out and there was a slight breeze to help keep everyone from getting too hot. Boaters could come into Lakeside Lodge at any point during the day with their catch, if they felt it worthy or maybe it was just for the chance to get a few cold ones.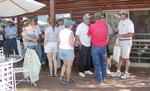 Once the 4 p.m. deadline came, fishermen and women gathered to exchange fishing stories, whether they involved fish or not.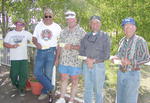 Five fishermen brought in a fish big enough to take home some money for the day's efforts. From left to right: Bob Pacheco, who received $133 for 4th place; Herman Wackerman, $399 for 2nd place; Charlie Golden, $532 for 1st place: Norm Pape, $66.50 for 5th place; and Bob Peterson, $199.50 for 3rd place.