From the pages of
Sublette Examiner
Volume 2, Number 11 - June 13, 2002
brought to you online by Pinedale Online
---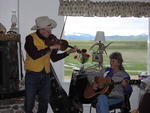 The crowd was serenaded by Joanne Johnson of Jackson on the guitar and George Johnson of Dubois on the fiddle, and as added entertainment, some of the crowd joined in to sing along, or just play a little tune.

Rooms with a view at Triple Peak

by Sheri Nolan and Rhonda Swain

Last Saturday, descendants of the O'Brien family completed a family project that involved many of its modern-day members. According to the project's website, www.triplepeak.com, the new Triple Peak Lodge looks like an old historic hotel, complete with a western-looking old false front and narrow windows. Located approximately 25 miles northwest of Big Piney and 30 miles southeast of Pinedale, you have to travel 20 miles on a windy gravel road to reach the serene lodge.

Built by family members Toni David, Clint Gilchrist, Kent Profit, Shirley Setzler, Kristy Sims and family, Laurel Profit, Cheryl and Vince Pierce and family and Tanya and Travis Elliott and boys, the lodge perches atop a hill "overlooking the South Cottonwood Creek valley facing the Wyoming Range" but Gros Ventre and Wind River Mountain views are awesome as well.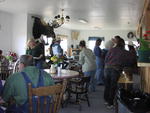 A good time was had by all last Saturday when a crowd gathered to help celebrate the grand opening of the Triple Peak Lodge. The opening of the lodge is a joint family effort that came together in a good old-fashioned meal with lemonade, iced tea and cake for all.

The facility offers a guide service for hunters in the fall, snowmobiling in the winter (with snowmobile rentals available locally), and horseback riding, fishing and more for its summer guests. Its eight guest rooms feature old-time names: Jedediah Smith - Mountain Man, Butch Cassidy - Outlaw, The Virginian - Cowboy, Molly Wood, - School Marm, Joseph and Justina Prescott - Pioneer, Chief Washakie - Shoshone Indian, Ann Bassett (alias Etta Place) - Cattle Queen, and Pat and Lura O'Brien - Homesteader.

To get to Triple Peak, take Cottonwood County Road 117 for 10 or 11 miles, turn right, and cross South Cottonwood Creek. At the top of the hill, turn left on Profit Road, the lodge is about a mile down the lane. Reservations are required 24 hours in advance, and can be made for meals, family reunions, hunting trips, or horseback riding and fishing, among other seasonal activities.

Call Triple Peak managers Cheryl and Vince Pierce at 307-276-3408 for information.

Photo credits: Sheri Nolan

See The Archives for past articles.
---
Copyright © 2002 Sublette Examiner
All rights reserved. Reproduction by any means must have permission of the Publisher.
Sublette Examiner, PO Box 1539, Pinedale, WY 82941 Phone 307-367-3203
examiner@wyoming.com