From the pages of
Sublette Examiner
Volume 2, Number 10 - June 6, 2002
brought to you online by Pinedale Online
---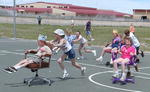 Not to be outdone by their older Puncher and Lady Puncher siblings and classmates, these future Big Piney track stars signed up for the grueling rolling chair relay at last Wednesday's Big Piney Elementary School Play Day.

All play and no work

by Jim Carbley

While it's been said that all work and no play make Jack a dull boy, it appeared that the all play and no work agenda at last Wednesday afternoon's traditional Big Piney Elementary School Play Day held behind the school just two days before the end of the school year, made all the Jacks and Jills happy little boys and girls.

The Play Day divided the kids into six teacher-managed teams competing for fun in a crazy mix of seven events: the shoe kick/wheel-barrow race, backward/forward race, spoon and egg relay, rolling chair relay, Frisbee throw, water ballon volleyball, and sometimes most important event, the restroom break.

Click for larger view
Despite the danger of getting egg on their face, to say nothing of their feet, shoes and clothes, these daring young competitors forged ahead in the spoon and egg relay.

Click for larger view
While the object of the shoe kick was to see who could kick their Nikes the furthest, the real challenge came when the kids spread out and tried to find matching pairs of footwear among the dozens of mixed up pairs scattered over the lawn.
Photo credits: Jim Carbley
See The Archives for past articles.
---
Copyright © 2002 Sublette Examiner
All rights reserved. Reproduction by any means must have permission of the Publisher.
Sublette Examiner, PO Box 1539, Pinedale, WY 82941 Phone 307-367-3203
examiner@wyoming.com