From the pages of
Sublette Examiner
Volume 2, Number 10 - June 6, 2002
brought to you online by Pinedale Online
---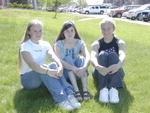 Hannah McGuire, Courtney Amerine and Susie Cooney led the Champions during its first year.

They are The Champions
Pinedale Middle School students donated funds to SAFV.
by Rhonda Swain

Last year, under the direction of Peg Carney, a group of Pinedale Middle School students started a drug-free group called 'The Champions.' During that 2000-2001 school year, 46 kids decided to apply to the Wyoming Community Youth Foundation for a matching-funds grant of up to $500.

"Three coordinators of my group went to a camp to learn about The Champions and how to get it going," Carney said. "They're in the ninth grade right now ... they served as officers that first year." Those officers were Hannah McGuire, Courtney Amerine and Susie Cooney.

Through the combined efforts of The Champions and the Pinedale Middle School Student Senate, $500 was raised at a carnival and from chocolate bars sales. When combined with the grant monies, they came up with $1,000.

According to Carney, The Champions students, representing Pinedale Middle School, "voted to award the money to Sublette County Sexual Assault and Family Violence to go to victims, especially children in abusive situations."

Carney said Robin Clover of SAFV "got the money a year ago - she's been spending it this year" for items ranging from a panic button at the safe house, helping families with children at Christmas, to medical expenses and relocation.

The group grew this year to 56 members, according to Carney, with over a third of the middle school students involved now.

Although the youth foundation "didn't offer a grant program this year, we worked on strengthening our group ... we met once a month and worked on monthly activities such as support and instructions ... we had a Champions fun day at the Pinedale Entertainment Center as one alternative to doing drugs.

"We're hoping they (the youth foundation) get it going again next year so then we can reapply.

"Our group isn't about just not doing drugs, drinking and smoking ... it's about making good choices and getting good grades," Carney said.

"It's a great group of kids, and we have a good time ... Working with them is an absolute pleasure."

Photo credits: Delsa Allen

See The Archives for past articles.
---
Copyright © 2002 Sublette Examiner
All rights reserved. Reproduction by any means must have permission of the Publisher.
Sublette Examiner, PO Box 1539, Pinedale, WY 82941 Phone 307-367-3203
examiner@wyoming.com