From the pages of
Sublette Examiner
Volume 2, Number 10 - June 6, 2002
brought to you online by Pinedale Online
---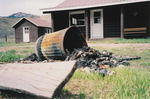 Whether the state agency has a double standard when it comes to clean camps has been raised as an issue.

Dead elk remain, but scattered

by Cat Urbigkit

The pile of dead elk located at the Wyoming Game and Fish Department facility in the Goosewing area of the Upper Gros Ventre River is now scattered across the location, according to photographs taken there within the last few weeks and again within the last few days.

Riverton rancher Dan Ingalls, who recently ceded his Upper Gros Ventre grazing allotments on the Bridger-Teton National Forest over to a new permittee, first took photographs of a pile of dead elk on the elk feedground during Easter weekend. WG&F officials said at the time that the pile was the result of wolf kills and that to aide federal officials, the carcasses had been placed in one area for inspection later. WG&G Regional Wildlife Supervisor Bernie Holz also said at that time that the pile of carcasses would be buried.

Ingalls and the new grazing permittee were critical of the agency in recent interviews, stating that the facility attracts bears to an area used by livestock and poses a human safety concern as well.

When shown the recent photographs of the carcasses, Holz said, "I wouldn't think that's a bear attractant as it is," and said to his knowledge, all that's left of the carcasses is just some hide and bones.

As for the overturned and spilled garbage cans also photographed at the scene, Holz said, "That's stuff that all gets hauled off."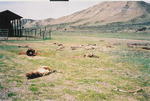 Elk carcasses remain scattered around the Goosewing feedground, as show here. The hay stackyard is also pictured.

But Ingalls said bears had obviously been into the cans, as evidenced by the chewed food wrappers, tin cans and both burned and unburned garbage, and the barrels themselves had been bent.

Ingalls accused the agency of having a double standard, urging that the U.S. Forest Service issue a food-storage order to place constraints on visitors to bear country, but not practicing what it preaches by keeping its garbage picked up or using bear-resistant containers.

WG&F Commissioner Doyle Dorner of Evanston said in an interview that while he is positive the carcasses weren't intended to serve as a bear bait, the pile "could be a bear attractant.

"I think this is a very unique situation," Dorner said, in which "We've never had that many elk killed before (by wolves). It's plowing new ground for us all."

Dorner said it is his intention to request department personnel prepare a plan that would address how to handle "the massive dead elk that occurs at these feedgrounds."

"I'll ask them to develop a plan," Dorner said, probably at the WG&F Commission meeting scheduled for Thursday and Friday of this week in Saratoga. "I'm confident by the time the next feeding season rolls around, we'll have a plan in place." Dorner pointed out as wolf numbers continue to climb in the region, "the likelihood of this occurring again increases as well."

Dorner said he doesn't want attractants laying around for bears.

"It's contrary to what we believe should be occurring there," Dorner said. Dorner said he has not yet spoken with anyone within the department about the issue and said he has not examined the photographs in any great detail.

As for the garbage, Dorner said, "It was not indicative of clean camping,"

"We should lead by example," Dorner said. "This is probably one of the cases in which we haven't ... and there's evidence to show that we haven't."

Dorner said the agency has a "learning curve" in dealing with wolves and "nobody expected there to be that amount of elk killed up there this season."

Interim WG&F director Tom Thorne said in an interview that it is his intention "to see that we don't have the same situation occurrng next winter."

Thorne said Governor Jim Geringer forwarded to Thorne an e-mail from Ingalls, and Thorne received a separate e-mail from Ingalls as well. Thorne said for the moment, he has asked department personnel to supply him with more information as to what happened at Goosewing.

Thorne said there are two reasons why carcasses shouldn't just be left. laying in the middle of the feedgrounds. First, having federal officials on the feedgrounds inspecting carcasses could cause the elk to flee, and if the carcasses were left laying, wolves could come back to feed, also scaring the elk away. But Thorne also said that piling the elk up in an area where there is human activity isn't a good idea either. Thorne noted that if some elk carcasses were left accessible to wolves, perhaps the predators wouldn¹t kill as many elk.

"It's really a pretty dicey issue,"Thorne said. Ingalls was critical of the state wildlife agency for keeping its facility in such a condition that it serves as a bear bait, drawing predators to area where about 2,000 head of cows, calves and yearlings will be unloaded just a half-mile away next week.

Ingalls is urging the WG&F Commission to "react ... as if the cattle being unloaded belonged to you." "If the WG&F were your neighbor, would you like it? "Ingalls asked. The Stanko family of Gordon, Neb., is preparing to ship their cattle onto the allotments previously held by Ingalls. When asked if he were concerned about the WG&F elk carcass problem, Rudy "Butch" Stanko said: "Absolutely. It's pretty obvious what they're doing there. ... You don't leave dead animals laying around. You dispose of them."


"I'm definitely concerned, "Stanko said. "Someone should have to answer for their negligence, or their participation if it was on purpose."


"We're going to have problems up there," Stanko predicted. He said he hopes Thorne "understands what is happening and makes some changes. Someone should be held responsible for what happened."


Photo credits: Dan Ingalls

See The Archives for past articles.
---
Copyright © 2002 Sublette Examiner
All rights reserved. Reproduction by any means must have permission of the Publisher.
Sublette Examiner, PO Box 1539, Pinedale, WY 82941 Phone 307-367-3203
examiner@wyoming.com