Bareback Riding
Tommy Baker - Big Piney, 62 (Tommy Baker won the bareback)
Ben Stith - Laramie, 58, riding buckle
Justin Harvey - Laramie, 54
Saddle Bronc
Brandon Ilaun - Riverton, 73
Clint Phillips - Douglas, 69
Britt Trumbull - Torrington, 67
Bobby Welsh - Gillette, 65
Bull Riding
Lane Stevenson - Wheatland, 66
2/3 - Bobby Welsh - Gillette, 64
2/3 - Brain Welsh - Gillette, 64
Triffon Wambeke - Gillette, 63
5/6 - Red Albers, 61
5/6 - Jake Greenwood - Big Piney, 61
Steer Wrestling
Seth Brockman - Wheatland, 6.15
Gavin Sneathen - Gillette, 8.10
Taylor Selby - Pinedale, 8.41
John Nugent - Big Piney, 10.93
Chancy Winsor - Kaycee, 18.07
Warren Adams - Baggs, 18.84
Colter Floy - Laramie, 21.66
Team Roping
Britt Trumbull - Torrington / Kelsey Felix - Lander, 9.12
Mark Hayden - Gillette / Eric Hayden - Gillette, 9.38
Brock Merrill - New Castle / Jake Keller - Saratoga, 9.78
Chancy Winsor - Kaycee / Shane Sims - Wright, 13.47
Kyane Hampton - Lander / Robin Enos - Ft. Washakie, 15.47
Staci Miller - Gillette / Sheila Miller - Gillette, 15.71
Calf Roping
Justin Viles - Cody, 11.05
Reo Lohse - Kaycee, 11.87
Bryan Leeper - Bondurant, 12.08
Zach Steele - Aladdin, 13.16
Jake Freese - Lander, 15.44
Chancy Winsor - Kaycee, 15.53
Breakaway Roping
Cammie Hasking - Maybell, Colo., 3.69
Jozie Coy - Cody, 3.83
Robin Enos - Ft. Washakie, 4.10
Kayla Romsa - Jackson, 4.27
Mandee Manning - Lost Springs, 4.43
Channing Glick - Ft. Washakie, 5.63
Pole Bending
Jamie Tafoya - Jackson, 21.372
Jolene Brady - Gillette, 21.591
Channing Glick - Ft. Washakie, 21.608
Amy Pallesen - Green River, 21.627
Cody Massey - Rawlins, 21.780
Jamie Mader - Gillette, 21.863
Brandi Bartow - Gillette, 21.951
Sadee Wheeldon - Jackson, 22.020
Kyane Hampton - Lander, 22.248
Kasie Peter - Lander, 22.332
Barrel Racing
Reann Zancanella - Rock Springs, 16.601
Cammie Haskins - Maybell, CO, 16.794
Tiffany Hansen - Hawk Springs, 16.866
Mandee Manning - Lost Springs, 16.977
Cody Massey - Rawlins, 17.036
Jenna Carter - Gillette, 17.091
Channing Glick - Lander, 17.122
Kelsey Felix - Lander, 17.169
Autumn Wright - Jackson, 17.184
Brianna Montgomery - Dixon, 17.193
Boys Cutting
Eric Hayden - Gillette, 72
Mark Hayden - Gillette, 71.5
Kean Edwards - Gillette, 71
Delon Parker - Gillette, 70
Ben Perrson - Gillette, 69
Girls Cutting
Stacy Johnson - Laramie, 73
Jenna Carter - Gillette, 71
Melissa Martin - Casper, 70
Reann Zancanella - Rock Springs, 69
Emily Delyea - Douglas, 68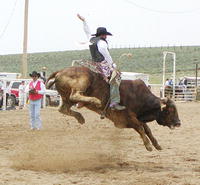 Click for larger view
Jake Greenwood of Big Piney was one of six riders who completed their eight-second ride during the Big Piney High School rodeo held last Saturday at the Sublette County Fairgrounds.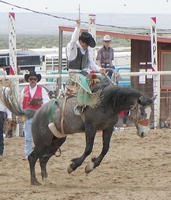 Click for larger view
Clayton Selby gives a shot at the saddle bronc, but didn't manage to complete his ride. Clayton also competed in the team roping with his brother Taylor.