From the pages of
Sublette Examiner
Volume 2, Number 1 - April 4, 2002
brought to you online by Pinedale Online
---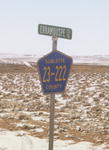 Although the original county road sign said "23-222" the road is actually 23-225 and this sign was recently replaced.

RS-2477 litigation?



Litigation may be in Sublette Countyís future, if the comments of the Sublette County Commissioners Tuesday are any indication.

The issue is the Erramouspe County Road and the countyís claim of jurisdiction to the road pursuant to RS-2477. The road, which traverses five miles of federal land to conclude at the Erramouspe Ranch along the Big Sandy River, is located about 36 miles south of Pinedale off Highway 191.

At a meeting last month, the commission received a confidential legal opinion written by Cheyenne attorney Karen Budd Falen regarding the Erramouspe road. Commissioners said Tuesday that after reviewing that opinion, they are interested in the issue. Commissioner Betty Fear said the document laid out several items the Erramouspes would need to have established before the county could take action.

Fear said the next move is up to the Erramouspes.

"We may deal with Budd-Falen to file a suit, possibly," Commission Charirman Bill Cramer added, "but that hasnít been discussed.

Last April, the commission passed a resolution declaring the road a county road under an ancient federal statute, RS-2477, which declared, "The right of way for the construction of highways over public lands, not reserved for public uses, is hereby granted."

But the Bureau of Land Management has refused to recognize the countyís claim to the road, instead asserting that only the Secretary of the Interior has the authority to approve or disprove an RS-2477 claim.

The county took action at the request of the John Erramouspe family. The road has been used to access the Erramouspe ranch for more than 70 years, but the agency wanted the Erramouspes to apply for, and pay for, a right-of-way because the family had maintained the road.

Photo credits: Cass Urbigkit

See The Archives for past articles.
---
Copyright © 2002 Sublette Examiner
All rights reserved. Reproduction by any means must have permission of the Publisher.
Sublette Examiner, PO Box 1539, Pinedale, WY 82941 Phone 307-367-3203
examiner@wyoming.com