From the pages of
Sublette Examiner
Volume 2, Number 1 - April 4, 2002
brought to you online by Pinedale Online
---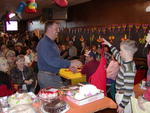 For the 12th year now, Henry Schmidt has brought an entry to the Aniel Daniel Chili Cookoff. This year, he won "best of show" and received a coat rack; for his second place in the red chili category, he got an apron as well as a check (he donated it back).

Some like it hot
Aniel Daniel Chili Cook-Off Hits 21 Mark
by Rhonda Swain

It was definitely a hot time in the old town last Saturday for the Daniel Community Club members and their guests.

Although the money raised was about the same as last year, in terms of attendance and entries, the 21st Aniel Daniel Chili Cook-off was a huge success, with about 150 people feasting on 28 chili entries.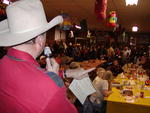 Steve James once again heads the dessert auction and tries to recognize Rod Bennett and Norm Waller for their support by giving them a gift certificate, which they refused. So Steve auctioned it off as well. It was estimated that around 150 people showed up for chili eating and the good time always associated with the chili cook-off.
Steve James, one of the event organizers, said the Daniel Community Club "made a little over $2,600 ... it was about the same amount of money as last year ... But attendance was up quite a bit, especially on the chili entries, by twice as many or more.
One local, who happens to be a sheriff's department undersheriff, has entered chili for 12 years and turned out to be a big winner this year, James said.
"Henry Schmidt had the best of show chili, which was the top chili ... it got the most votes of all the deals," he said. "He got neither first place, in the green or red chili category, but he got the top votes."
Schmidt's chili took best of show and second place in the red category, which earned him a coat rack made and donated by Joey's Welding and Metal Artwork in Rock Springs. Schmidt said he put over 8 pounds of meat in his super sizzler.
Of the nine green chili entries, Daniel's Mari David's was judged the tastiest, or hottest maybe, and she earned $36 of the money returned from entry fees.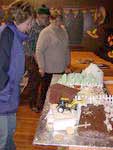 One of the desserts that received a lot of attention, which was made by Cindy Ramsey, was a combination of several cakes that made up a ranch. Cindy received an award for the "best decorated cake" for her efforts.
Nineteen cooks created culinary masterpieces to enter in the red chili category, and first place and a check for $76 went to Ross McCracken.
For the third year in a row, Big Piney's Susie Greenwood's blueberry cheesecake brought the high bid, $115 this year, in the dessert auction. Seventeen cakes and desserts were auctioned, most of which James said were donated back for auction again.
Jim Bob and Jake Griffin created a patriotic masterpiece: a cake decorated as a United States flag which Cris Paravicini bought for $60.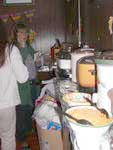 Twenty-eight chili entries came through the old Daniel Schoolhouse doors last Saturday, which could be a record for the number of entries for the Aniel Daniel Chili Cook-off. With that many entries, the five 2002 judges had their work cut out for them, going back to different pots of chili to try to figure out which ones were on top.
Cindy Ramsey's 'ranch' cake brought her recognition as the best-decorated cake, for which she received a deer horn candelabra created by Jim Kiever. Ramsey's cake measured about 2 feet by 6 feet, and came complete with a tractor and front-end loader, which the kids had run about the ranch, judging by the tire tracks in the frosting.
Funds raised from the dessert auction totaled a phenomenal $1,600.
One reason the cook-off is such a fund-raising success is that most everybody donates their winnings back, James said, and he commended the great support from Rod Bennett and Norm Waller, both of Big Piney.
"They have come every year for two or three years now and are really good supporters," he said. "They were the high money spenders this year and we were gonna' give them an award but they made us auction it off and keep the money. They wouldn't accept the award," James concluded.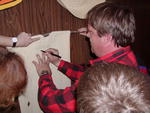 Ross McCracken is the first to sign the 'wall of fame,' new to the traditions of the Aniel Daniel Chili Cook-off. The deer hide will showcase names of past winners of the event and will continue to grow year after year.
RESULTS:
Best of Show - overall
Henry Schmidt – coat rack
Green Chili Category – Nine Entries
1st - Mari David - $36
2nd – Hank Ruland - $21.60
3rd – Azer Aldrich - $14.40
Red Chili Category – Nineteen Entries
1st – Ross McCracken - $76
2nd – Henry Schmidt-$45.60
3rd – Norm Waller - $30.40
Photo credits: Delsa Allen