From the pages of
Sublette Examiner
Volume 1, Number 52 - March 28, 2002
brought to you online by Pinedale Online
---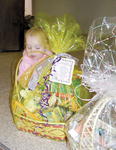 Even the youngest in the crowd knew that Easter baskets usually hold some very tasty treats.

2nd annual BP library fundraiser is eggceptional
Fairground event raises $2,500 for library equipment.
by Jim Carbley

With plans and funding for the upcoming expansion of the Big Piney Public Library already on the books, the Friends of the Library have been hard at it, raising funds to stock the added space with books, shelving, computers and all the other odds and ends that will be needed to make the facility work.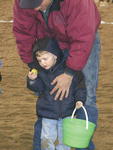 "One for the bucket and letís go get some more" was the order of the day, as kids scrambled around inside the fairgrounds Ag Center at Saturdayís annual Big Piney Library Easter egg hunt.
So Saturday the Friends of the Library put on their second annual fundraiser at the Sublette County Fairground starting with a contributions-accepted breakfast at the
fairgroundís dining hall featuring truckloads of biscuits and gravy, hash brown potatoes and sausage links.
Then with everyone stuffed to the gills, Jay Fear took center stage and auctioned off several dozen donated Easter baskets, some of which brought outstanding prices, like the rubber bucket filled with horse stuff that Sandy McGinnis plopped down $305 to purchase.
From there, parents guided their excited children to the Ag Center for the libraryís traditional Easter egg hunt.
The event, which was the brainchild of Nancy Espenscheid, reportedly raised more than $2,500.
In an interview just before the auction, Nancy said, "This is for our library and to provide a good Easter egg hunt for the kids ... and I just think itís a wonderful way for the community to show support for the library, and they do ... (because) last year we raised $2,000.
"We needed an Easter egg hunt, and the Ag Center helps us so much, because usually in Big Piney, Wyoming, weíre in a snow storm at Easter, so this provides a good, dry, safe place for the kids to hunt eggs and a way for everybody to get together and support the library," Nancy added.
| | |
| --- | --- |
| After chowing down on biscuits and gravy, hash browns and sausage links, bidders chipped in big bucks at Saturdayís Easter basket auction at the fairgrounds dining hall to help stock the upcoming Big Piney Public Library addition. | With tips on egg-procurement strategy from moms and dads, when the whistle blew these tiny tots scrambled over the Ag Center sand and scooped up the hundreds of Easter eggs. |
Photo credits: Jim Carbley, Jim Carbley, Jim Carbley, Jim Carbley