Bondurant, Wyoming
This small community is named for B.F Bondurant who established his ranch in the Hoback Canyon in 1900 and later he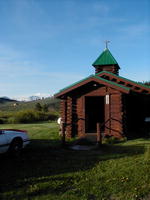 built a store and post office. Bondurant is a small ranch community located in the mountains of the scenic Hoback Canyon on US Highway 191 between Pinedale and Jackson Hole. It sits at 6,588 feet elevation and is bordered by the scenic Gros Ventre Wilderness area and the Hoback River. Many of the residents live here only in the warmer summer months and "snowbird" out during the winter due to the deep snow the valley tends to get in the winter months.
Population for the town proper is officially about 100 people. The town has an elementary school for the kindergarten through fifth grades. Older students are bussed 43 miles to the middle and high schools in Pinedale. The town has a post office, but it is located several miles to the south of the actual town of Bondurant.
One of the big events in this community is the Annual Bondurant BBQ held the last Sunday in June at St. Hubert the Hunter Church. For this community social gathering, local ranchers donate two whole beef which are barbecued in an open pit. This tradition began on August 3, 1941 at the dedication of this little country church. This event usually draws around 800 people. The money raised helps to maintain the little log church, which was enrolled in the National Register of Historic Places on January 24, 2002. Money from the annual Bondurant BBQ also helps support the community hall and some local services.
In addition to its ranching heritage, the area also is significant historically and has many uniqur recreational opportunities nearby. The are many outdoor recreational activities to enjoy in Bondurant including fishing, hunting, snowmobiling and horseback riding. The nearby Gros Ventre Wilderness Area is remote and relatively unknown, offering spectactular scenic views for hiking and hunting. Granite Hot Springs makes a great destination both summer and winter to enjoy the uncrowded thermal pool and nearby campground.
Bondurant and HobackArea History
On Sept. 26 1811, the Astor party with William Price Hunt, 61 people and 118 horses entered the Hoback Canyon near Bondurant while making their way westward to the Pacific Ocean. The basin was known then as Jackson's Little Hole. The three legendary trappers, Hoback Reznor and Robinson, guided the party. These were the first known white men to pass through the Upper Green river Valley. From that time on, the stream and canyon became known as The Hoback.
The oldest carving date found in Sublette County is located on the Ferris Ranch near Dell Creek, in the Hoback Basin near Bondurant. Don Ferris found this on a rock covered with shrubs, near his home, where he had lived since about 1919. He found it in 1961. the carving is M A. 1791. It could be an M P. The A or P is indistinct. It is considered to be the oldest carved date in the county.
Related Links:
Sublette County Historic Buildings (St. Hubert the Hunter historic church)